Sepak Terjang
"

Women in Data Science

"

dalam Bisnis dan Edukasi
By Prahariezka Arfienda   |   March 6, 2018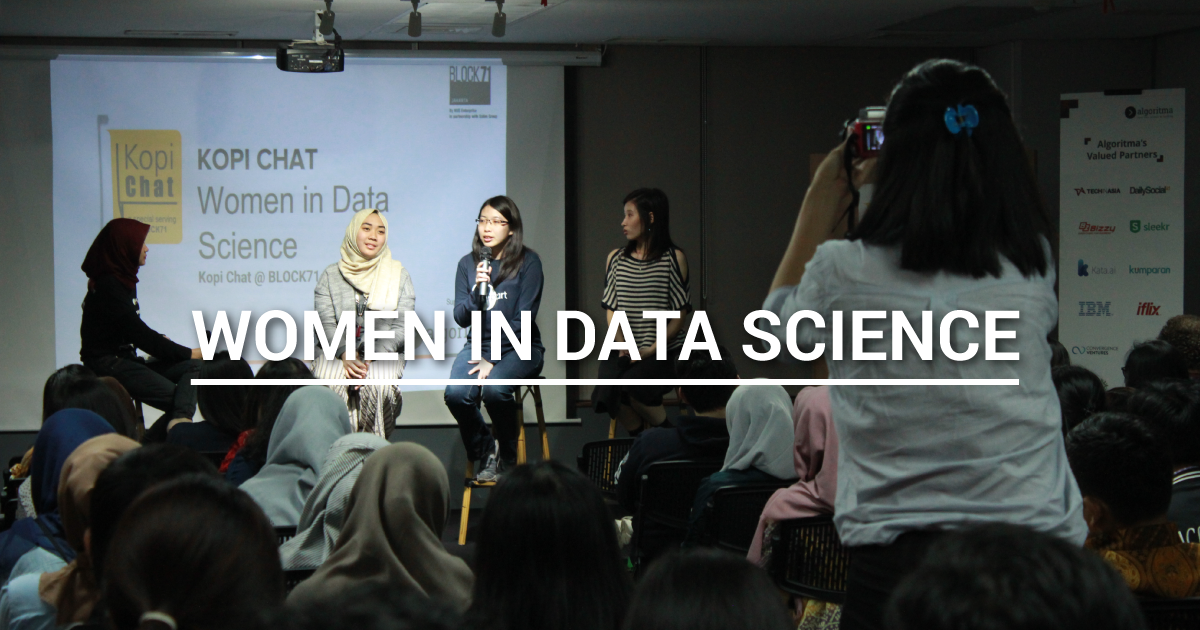 Topik seputar perempuan di dunia teknologi memang tidak ada habisnya. Apalagi, jika membahas perempuan yang terjun di ranah data science. Selama ini, karier di bidang teknologi lekat dengan kesan "cowok banget".
Padahal, tidak sedikit perempuan yang menekuni industri ini. Bahkan, mereka menempati posisi-posisi strategis, atau mengerjakan hal-hal yang sifatnya sangat teknis.
Bulan Maret lalu, Algoritma dan Block71 berkolaborasi dalam acara Kopichat: Women in Data Science. Acara tersebut kami selenggarakan dalam rangka memperingati Hari Perempuan Internasional yang jatuh di bulan tersebut.
Ada enam orang pembicara yang kami hadirkan dalam acara Kopichat: Women in Data Science. Mereka adalah Araya "Noon" Hutasuwan (Co-founder & CFO, Snapcart), Vira Shanty (Chief of Data Officer, Lippo Digital Group) dan Martijn Wieriks (Head of Analytics, Julo).
Selain itu, ada juga Lilian Tjong (Data Scientist, Tokopedia), Elisafina Siswanto (Data Scientist, Snapcart), dan Tiara Dwiputri (Junior Data Science Instructor, Algoritma).
Dalam sesi pertama, Noon, Vira, dan Martijn membahas tentang peran perempuan sebagai data scientist di ranah bisnis. Para peserta mendapatkan insight tentang peran data scientist, ketidak seimbangan antara ketersediaan data scientist yang siap direkrut dengan kebutuhan industri, dan lain sebagainya.
Women in data science yang berbagi di sesi kedua adalah Lilian, Elisafina, dan Tiara. Mereka lebih banyak membahas seputar pengenalan data scientist di bidang pendidikan. Salah satu isu yang disorot adalah, bagaimana pendidikan tentang data science di universitas dapat diselaraskan dengan kebutuhan industri. Sehingga, bisnis bisa mendapatkan data scientist yang siap pakai dan lulusan universitas pun memiliki peluang lebih besar dalam berkarier.
Apa lagi poin menarik yang disampaikan oleh para women in data science? Simak video berikut ini!